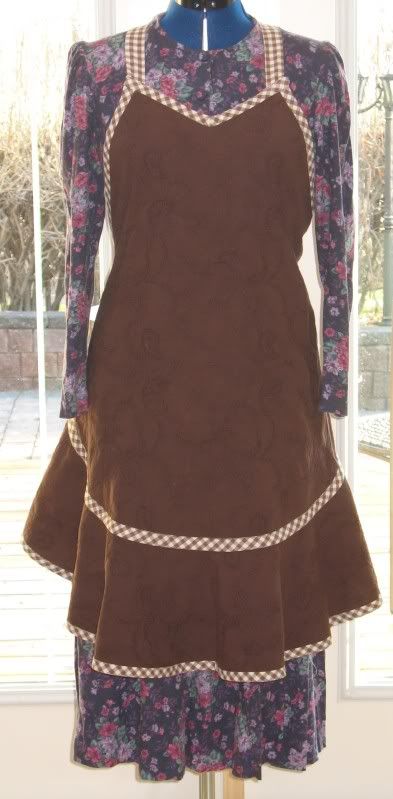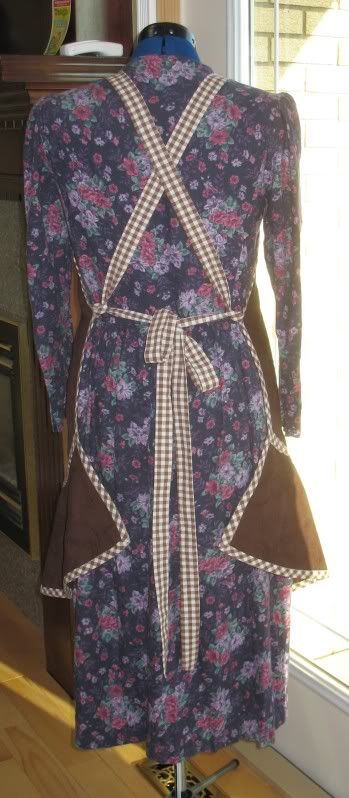 Here's the apron, that started my thinking on a bridal shower gift. Working with Emilie's colours, I found the perfect embroidered, cotton fabric, that was of the right weight for an apron. I found the lovely cotton gingham fabric to use for the bias tape features. The pattern I chose to use was
Butterick 4945
, using view D. Of course I had to make my own modifications to this. All of these lovely items were in my 'stash', for the right project, for the right time.
Changes I made to the apron were:
-I added 3" to the length, but I did that at about the waist line, not at the hemline.
-I did not go for a smaller size, as I like to have good coverage when working. I decided to use the size Large, to make sure there was good coverage, for when and if the Lord blesses Emilie with a child. It's nice to have an apron you can wear in your pregnancy, that doesn't tie around the waist, and you can adjust the straps.
-I ditched the facings on the upper sides and put biased edging instead.
-I used my favorite treatment for the shoulder/waist straps. I made long straps that thread through loops I have made, using the bias tape, so that I can adjust the apron as needed, both for the shoulder area and the waist. I saw this treatment on an old apron, from around the year 1910 and have seen it in antique and vintage apron patterns. It's my favorite way to make an apron adjustable.
Emilie tried on her apron, and she looked so good in it. I wish I had snapped a picture of that one, oh well. Maybe next time.